Your Business Needs Snapchat!
Duck faces, Pouts, Rainbows and Flower Crowns; all these phrases only point to one thing- Snapchat!
Born four years ago as the brainchild of Evan Spiegel, Snapchat has fast become a worldwide phenomenon taking over 150 million active users under its wings. Snapchat is a unique social media platform that differs from the understood norms and guidelines of other conventional platforms. It's essence is in the extremely short 10 second videos and pictures that users can post, under the condition that the 'story' will be completely wiped from existence, past 24 hours.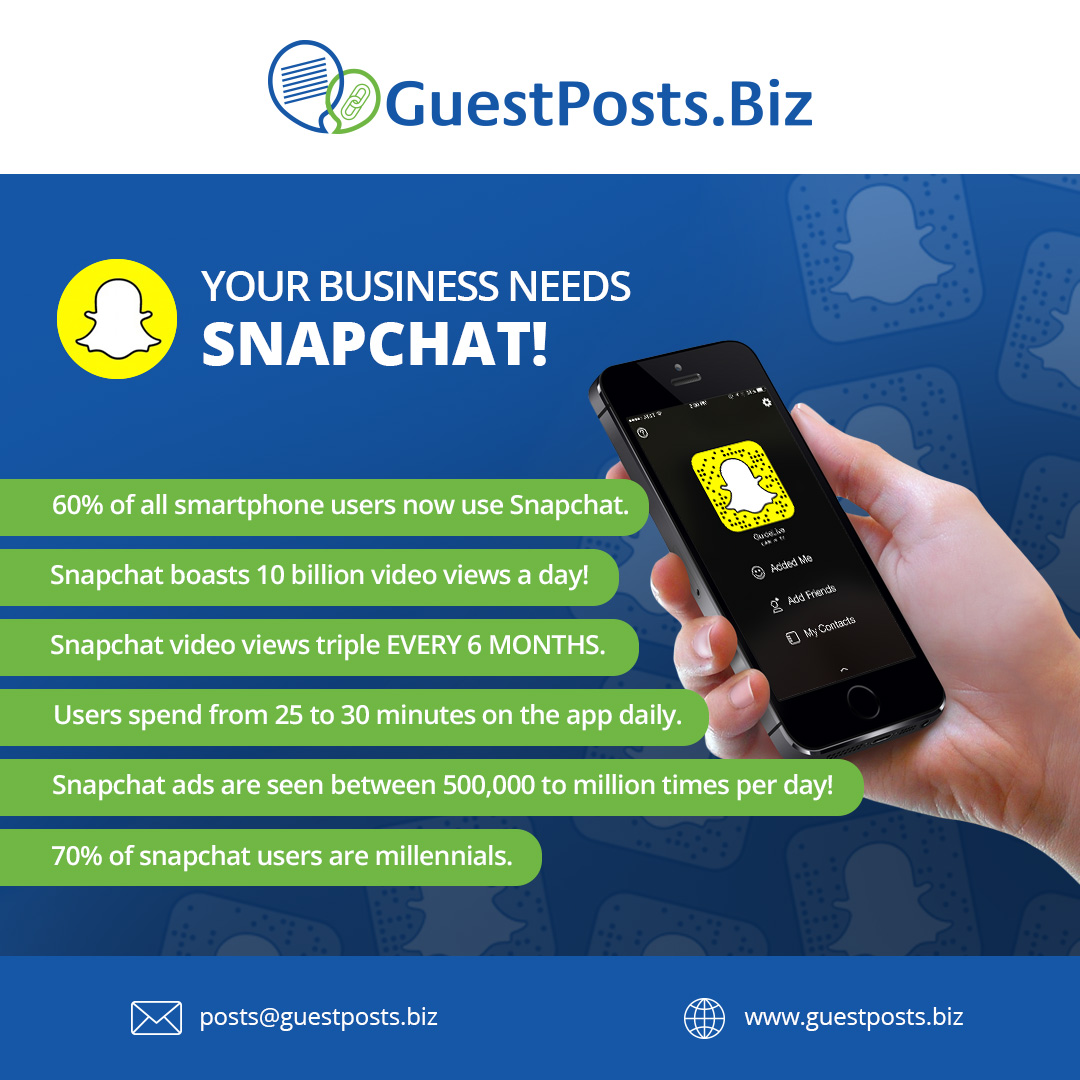 Having over 150 million users means Snapchat has racked up some impressive statistics over the years!
Here are a few;
• 60% of all smartphone users now use Snapchat.
• Snapchat boasts 10 billion video views a day! That's 2 billion more than Facebook. It is also said to surpass 18 billion views as of May 2017.
• Snapchat video views triple EVERY 6 MONTHS.
• Users spend from 25 to 30 minutes on the app daily.
• Snapchat ads are seen between 500,000 to million times per day!
• 70% of snapchat users are millennials.
I'll give you a moment to wrap your head around the megalith that are these statistics.
Basically, what all these numbers mean is that Snapchat can prove to be an extremely essential addition to your company's social media realm. 18 billion views is no small number, mind you. If your brand gets to the eyes of at least 1% of that, you're well off.
Businesses of all sizes, especially small business owners can reap the benefits of Snapchat by appealing to a younger demographic, i.e., millennials.
Now begs the question,
How will my business use Snapchat?
Well, if you're an expert in the field of social media marketing, then you probably have to leave most of what you know behind to completely understand the underlying power of Snapchat; it has no likes, no shares, no need for created graphics and lengthy write ups. Snapchat may be the simplest social marketing platform to ever exist!
Here are a few ways to get started;
1. Behind the scenes.
People nowadays are only presented with the final product, deprived of the processes that went down behind the scenes to produce it. It leaves them intrigued and questioning the realism of the finished product. This is where snapchat can help. With the use of its 10 second video feature, businesses can broadcast the happenings behind the curtains, leading up to the final product. This gains a large audience as people always want a sneak peek into the processes that doesn't involve them; it shines light on the mystique; sort of like revealing a magic trick.
2. Snapchat Ads.
Recently, Snapchat started to incorporate ads into people's stories. How this works is, when a user is browsing through stories, an add will pop up in between; be it a picture or a video. There is an option of skipping over the ads but it is still forced upon the user. Within the ad, should the user decide to stay, is the option to swipe up. What this does is take the user to another section within snapchat purely dedicated for the company that produced the ad. Here the company can either persuade the user to visit their website or download an app.
3. Create a GeoFilter.
Snapchat has the option of overlaying snaps with GeoFilters. Basically, what these are are self-made tags or logos that pop up on snapchatters' phones when they are within a certain range. Small business owners can create their own geofilter incorporating their brand into it, so that snapchatters can do the brand marketing for you! For example, if your business is a food truck and you are participating in some sort of food festival, you can create a geotag for your business, thereby letting snapchat users show off your food when they are within the vicinity of your truck. Geofilters can be purchased for 5$ minimum. There is an option for Sponsored GeoFilters but in my opinion, it is a unnecessary expense.
Social media is and always will be one of the easiest and most effective forms of brand marketing. Snapchat is the newest arrival to the party and it has proved its worth almost immediately. Utilizing the resources provided by Snapchat can make a massive difference in social media marketing, as opposed to the other orthodox platforms.
Use it sensibly!
#GetSetSnap!