Blogging Lexicon – Explained
Everyone reading this would be lying if they said they hadn't at least once in their life, thought of starting a blog. It's true; everyone is or wants to be a blogger these days; it is easy popularity. This results in there being millions of blogs and blog posts present out there on the world wide web. As interesting as these posts might be, how many bloggers out there actually know what professional blogging really is? How many bloggers out there have deconstructed the concept of blogging and understood the workings?
Not many.
What people don't understand is being an educated blogger will lead to your blog posts getting a higher readership and ultimately, your blog gaining popularity; fast. In this article, I will articulate the 10 most important jargon you need to know before starting out as a blogger.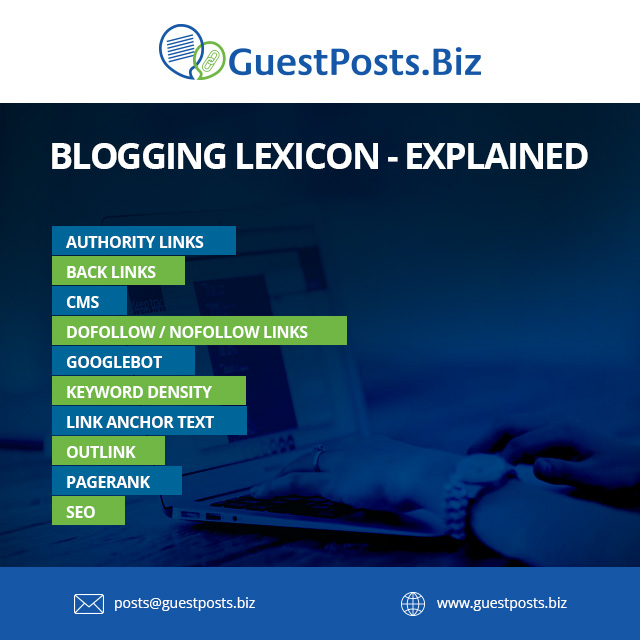 1. Authority Links:
An Authority Link is a link from a website that has a certain proven and substantial authority. Authority sites can include educational websites, established government sites, websites of corporate giants or any leading website in general. In the complex algorithms of SEOs, having the possession of an authority link on your website can boost traffic by a significant margin; as search engines seed through external links on the bases of value, age and size.
2. Back links
Back links are basically every website out there that posts links to your website, on theirs. Search engines take these "recommendations" into consideration when deciding which website comes high in the search results.
3. CMS (Content Management System)
A CMS is a set of related programs that creates and manages digital content. Basically, its function is making it easier for you to manage and change content on your blog without having to fiddle with the complex coding.
4. DoFollow/NoFollow links
A NoFollow link can be defined as an HTML attribute value used to teach search engine bots that a certain hyperlink should not impact the link target's ranking in the search engine's index. In other words, during SEO, the search engine will not put the website in question at the top of the search results solely based on one important link; only humans can follow the link.
A NoFollow link looks like this
Google
A DoFollow link is basically the opposite of a NoFollow. A link that does not have the attribute value "nofollow" is a DoFollow link. Search engine bots are allowed to follow these links.
5. Googlebot
Googlebot is Google's web crawling bot (AKA a Spider). Crawling is the process whereby Googlebot discovers fresh and updated pages to be added to the Google index. A Googlebot can be thought of as person who keeps a book of memories; as they have new experiences and find new things to do, they add it to their book.
6. Keyword Density
The number of words on a web page that coincide with a particular keyword. If a blog post is just peppered with keywords and no actual content, it can get penalized by the search engine.
7. Link Anchor Text
A link anchor text is the part that users can read which shows a small snippet of what the link is about. For example, in the link http://blog.dubaicityguide.com/site/city-walk-dubai/ , 'city-walk-dubai' is the link anchor text. It lets the user know where the link is going to connect them to on the internet. Having a simple yet powerful link anchor text can mean everything in blogging. It captures the interest of the time stricken people searching online; making them want to click on your link.
8. OutLink
An Outlink is a link from your website pointing to another website. This differs from an authority link in the sense that this link doesn't have to be connected to a powerful, popular website; it can be any website on the internet.
9. Pagerank (PR)
PR is a value between 0 and 1 allocated by the Google algorithm, which measures link popularity and trust among other factors. PR is basically like a judge on a talent show; the higher the rank your blog gets, the better off you are.
10. SEO
Search Engine Optimization is the father of all the jargon talked about here. Essentially, SEO is the method through which search engines, like Google decide which websites get to the top of the search result and which websites get bumped to the bottom. Having authority links, outlinks, appropriate keyword density and backlinks can rank your blog high in the PageRank system, which in turn ranks you high in SEO.
Understanding and being informed about the makings and language of a blog will truly help you in creating refined and improved blog posts, thereby, improving the health of your blog. This article, however, is only the tip of the iceberg in truly understanding the makings of everything that goes into a good blog. Stay tuned here for the next class in Understanding 'Tips and Tricks' of Blogging!
#HappyBlogging