5 Crucial Tactics For Writing A Successful Guest Post
Content Marketing helps drive targeted traffic to any online business. There is no denying the power & influence of guest posting in building relationships with your audience.
Here are 5 key factors to consider while writing your blog post:
1. Google's algorithm weighs quality over quantity
Start with a clear strategy and a long-term goal. Once your objectives are clear, focus on providing unique information that is both entertaining and informative for your site visitors. Be original and use the right keywords and phrases to help in Search Engine Optimisation. Use of hashtags is recommended for indexing in #Social Media.
2. Funnel your visitors to a desired outcome
Just like filling up your car with petrol, you need to put fuel in the gas tank, not pour it all over the engine. Use a content funnel to direct the flow of traffic toward your desired outcome or target. Dedicated landing pages with a value proposition are a preferred option than to simply direct to a home page.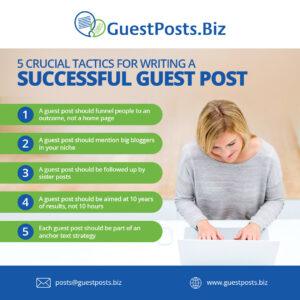 3. Guest Posts are a process, not an end in itself
The rewards of guest posting are cumulative, you build more momentum the more you post. Follow-up posts based on readers' comments build 'stickyness' and loyalty. New content brings back customers. Just window dressing is not enough. New products in store drive sales! Much the same in the online world.

4. Each guest post should be part of an anchor text strategy
Anchor text is the text you use when you link to a post. So as an example, if I am promoting GuestPosts.Biz, it should be hyperlinked to a funnel landing page to get desired results. Imbed your anchor texts in a meaningful and subtle way to be part of the narrative – it should not stand out like a sore thumb!
5. SEO copywriting has to work for humans first, search engine robots second
When you write a guest post, you should have already done in depth keyword research and know specifically what phrases you want to rank for, based on how much traffic they bring and how competitive they are. Remember, you want your guest post to drive traffic from Google on an ongoing basis.
The objective of guest posts is to build your brand online in a contextual way – don't over promote yourself.