Launching your Ecommerce website!
Are you in the mood for some new furniture? How about a new laptop? A new piece of artwork? Or even a new car? All without leaving the comforts of your couch? This is the simplicity of the world of ecommerce! In today's day and age, almost every product imaginable is purchasable online; pay the prize required and bam! The product is at your doorstep. This ease of shopping has now almost completely eclipsed conventional 'brick and mortar store' shopping as everyone prefers to shop from the comforts of their homes. As of last year, the ecommerce ventures have snowballed to become a trillion-dollar industry. This megalith amount of revenue has pulled many an entrepreneur to join the ecommerce realm; and today with the help of this article, you can too!

There are certain prerequisites that need to be met before venturing out into the ecommerce world;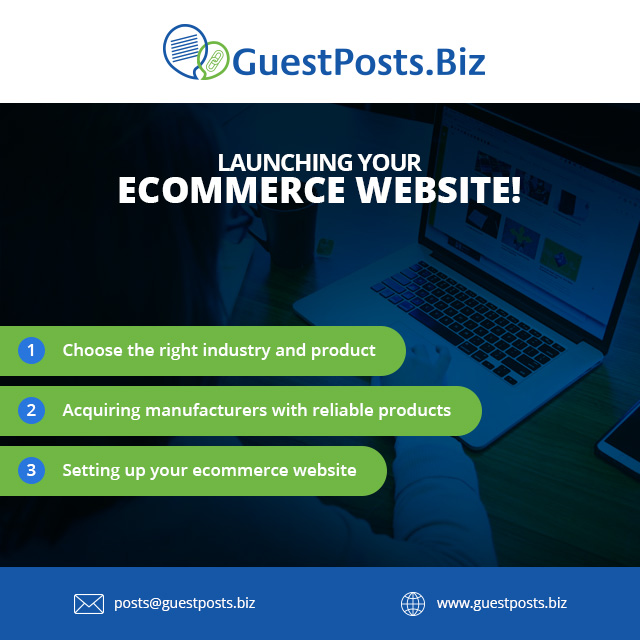 Choose the right industry and product:Making a choice about the right product is the most crucial step in the process; a cornerstone, if you will. If you choose a product that isn't the right fit for you or the community, you can throw in the towels right away as profits will be minimal.
There are certain guidelines you can follow to find the right product for you;
Price: In ecommerce, ROI is absolutely critical. If you don't get a positive ROI for your business, whatsoever it may be, the business will likely fail in the near future. Make sure to select a product that isn't too expensive to purchase but can also be sold for a reasonable profit. Studies have shown that products within the 100$ to 200$ margin perform the best.
Profit Margin: Make sure your cut on the sale is reasonable. Usually a 30 to 35% cut is accepted to be within the boundaries of reason. Although the type of product can make a huge difference in your cut. For example, electronics such as phones, have a small margin; but their accessories can sell with a profit margin of up to 200%! That is a vast difference.
Demography vs Geography: Check to make sure that your product will be wanted by people of a community. People usually turn to the internet when the product they are looking for is not locally available in their vicinity.
Shipping costs: The shipping of a product is always a hassle for the merchant; the bigger the product, the more expensive it is to ship. When people see a huge shipping fee attached to their shopping cart, they might back away from going through with the purchase. Make sure to select a product that will provide you with a minimal or no shipping fee.
Your love for the product: If you decide to sell hairbrushes when you in fact wanted to sell gardening tools, the passion and effort you put into your company won't be as whole hearted as it could be; and believe it or not, this affects your revenue.
Acquiring manufacturers with reliable products:After identifying the right product for your tastes, comes the time to find a manufacturer of the product you are looking for. There are several tools online to help you in this stage;
Google Shopping: This is a powerful search engine dedicated to finding physical products online, their producers and their sellers. Enter your product into the search bar and keep an eye out for the Brand section of the results.
Worldwide Brands: A collection of wholesalers and over 10 million products.
Wholesale Central: With over 700,000 products, finding yours should be a walk in the park.
Once you've figured out who your manufacturer is going to be, reach out to them and ask permission to resell their product. Many a times large scale manufacturers will not take heed to a small scale startup company, but small manufacturers with very little requirement will; and perseverance helps.
Setting up your ecommerce website:Setting up your website can be a hassle, especially when it comes to choosing an ecommerce platform. The ecommerce platform deals with every one of the items, classes, checkout process and different perspectives required with a practical ecommerce site. There are many ecommerce platforms accessible, a large portion of which have generally a similar usefulness and components. Picking a stage can be a major hang up for a considerable measure of business visionaries. I recommend simply getting something up and running now as opposed to putting in a lot of time inquiring about and testing different platforms.
There are 2 platforms that have proved to be the strongest;
Shopify: Shopify has done all that they can to make setting up and running an eCommerce site as simple as could be expected under the circumstances. They handle all the facilitating, security, and credit card preparing to give store proprietors more opportunity to concentrate on advancing their site. However, this likewise implies website admins are to some degree restricted with regards to changing how the site capacities and looks. To battle this, Shopify has an extensive variety of site formats and applications. While there are free applications accessible, many have a related month to month expense which can increase rapidly.
OpenCart: OpenCart is a very capable and simple to utilize stage with a not insignificant rundown of elements. Not at all like Shopify, OpenCart is open source, i.e., website admins can roll out any improvements to the plan or usefulness of the site. In any case, this additionally implies hosting and site security should be setup physically. OpenCart additionally has a large number of pre-modified "expansions" that permit clients to effortlessly modify the site without contracting an engineer. Numerous augmentations are for nothing out of the pocket while others have a one-time expense between the likes of $10 and $50.
Following these steps can help you begin your journey into the widely profitable world of ecommerce; helping you increase your worth, without having to leave your seat!