Top 5 App Store Optimization Tools for your Business
Do you want to read the news?
Or play a video game?
Or listen to trending music?
We live in a world where all of those things are possible from within the potential of a mobile phone; through the power of Apps. There is an app for virtually everything these days; ranging from complex ones that track aircraft and flight paths to the simplest of ones like a virtual candle. In this bustling market of apps, your app might need a bit of nudge to come out on top. This is where App Store Optimization comes into play! ASO, similar to SEO, is the process of improving the visibility of an app on an app store, such as Google Playstore or Apple AppStore. While SEO works with websites, ASO is solely for mobile applications. While many companies worldwide provide this service for a fee, there are certain tools that you can use to optimize your company's app, by yourself.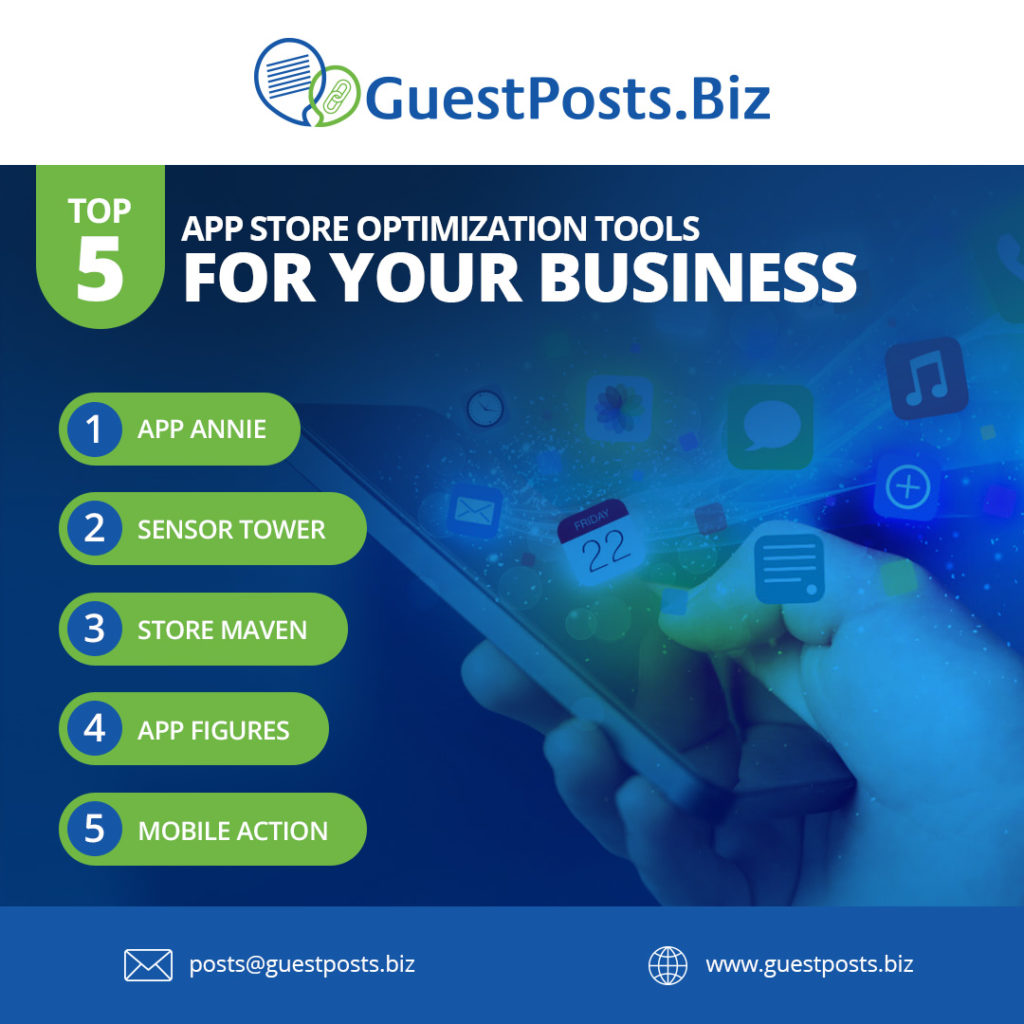 App Annie: With a following over 500,000 users, App Annie helps your business figure out the global app economy by breaking it down into simple, comprehensible, real time statistics.
App Annie has several key features that make it one of the best ASO tools available;
Market Data Intelligence: This product takes you behind the scenes of the workings of a top selling app. It reveals user behaviors and demographics, download rates, user retention and competitor activity.
App Analytics: This product lets you measure how well your app is doing in the global market by revealing real time statistics of download rates, performance and profit obtained. This is a sister product of Advertising Analytics; it does the grunt work and reveals stats based on any advertising campaigns you may do.
Store Stats: Working with the basic principles of ASO, this product reveals the historical rankings, ratings, reviews, and keywords required for your app across diverse classes and countries.
Sensor Tower: If increasing app sales is your main objective, then Sensor Tower is the ideal tool for your business. It provides competitive insights through real time statistics based upon ASO. Some of its key features are
App Intelligence: Focusing mainly on ASO, this product lets you analyze reviews, find the secret to being a featured app, analyze sales, app analytics, keyword analysis and localization analysis.
Store Intelligence:This product provides insights into stats for app downloads and revenues, with real time numbers for both accessible across multiple channels, devices, and countries, coupled together with a peek into competitor research to aid with user acquisition.
Ad Intelligence: Gives you a taste of what your competitors are doing in the field of user acquisition. With stats dictating the increase or decrease in profit due to ad campaigns, this product provides some useful insights.
Top Charts and Leaders: This is Sensor Tower's most basic product and is free to use; offering different viewpoints into the leaders and top performing apps across various channels, devices, and countries. This product also reveals latest app updates and ratings.
Store Maven: Making ASO more accessible and affordable, Store Maven promises to make the complex processes in ASO doable for any layman. This tool split tests your app based on design and performance; it takes into account
Icon
Title
Rating and Votes
Screenshots
Video
Poster Frame(ios)
Feature Graphic(Playstore)
Description
Uber page(ios)Store Maven also provides you with a dedicated design studio to brainstorm and create great designs and content.
App Figures: The mobile app tracking platform of choice for top app developers; from businesses ranging of all sizes, App Figures connects everything of importance to your app autonomously; turning your app data into dominant, simple to comprehend reports for your app portfolio. Some of the key features offered by this tool are
Sales and Downloads: Tracks app sales, download rates and in-app purchases.
Reviews: Get notified by email or slack when someone reviews your app.
Ranks: Lets you know the standing of your app and competitor apps in the global market.
Usage: Observe sessions, active users, crashes and other usage data.
Ad Monetization: Keep track of ad performance and profits across different systems, apps, and countries.
Top Apps: Be knowledgeable about the top apps that are in any category and country.
Mobile Action: A mobile data intelligence tool that provides insights into the usable reports and data you need for any app in any marketplace. Some of its remarkable features are
ASO Intelligence: This product includes four free tools: Keyword Tracking, Suggestions, Keyword Intelligence, and Competitor Tracking. Keep track of all your keywords and how your app increases in ranks due to each, combined with noticing which keywords you part with your competitors. Research new keywords and get an updated list which includes long-tail keywords.
App Analytics: Provides you access to frequently modernized categories stretching across multiple channels and countries. App Analytics also analyzes your reviews, from the point of view of average rating and rating distribution, going further to see the keyword density of reviews, combined with complete download and profit history for your apps and competitor apps.
Market Intelligence: This tool shines light on download and revenue statistics, utilizing Mobile Action's own custom algorithm to assist you in determining the number of users you need to acquire to leave your competition in the dust.
Use these tools smartly and stay on top of the ASO game!