10 Handy Imaging Tools for Blogging
Why is it that people pay millions of dollars for a great piece of art but only a few hundred for a great book?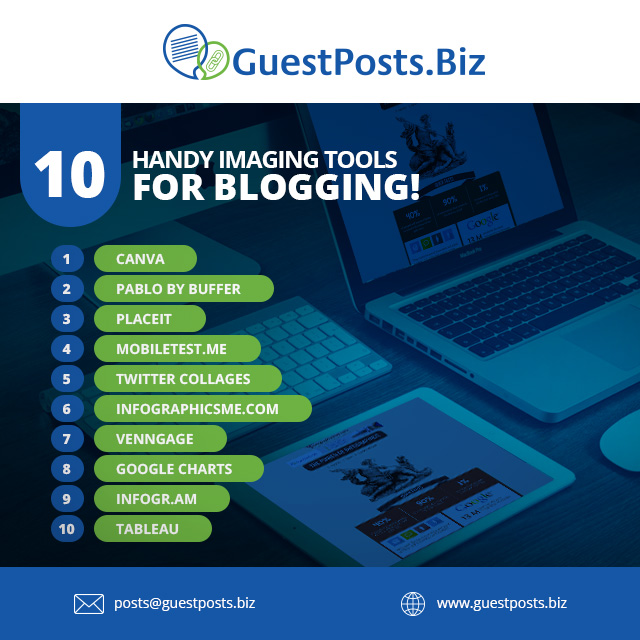 Humans are visual creatures and bright colorful images capture our interest more than just lines of text. This is the root cause of many blogs failing to get off the ground and become popular. They focus on writing hordes of capturing content but neglect visual aids. Having images in your blog has proved to increase readership up to 94%; those kinds of odds sound hard to obtain but yet inserting an original image isn't hard at all. In fact, this might be the simplest way yet to invite more eyes to your blog. Then why don't more people do it? Well it all boils down to the word; How. Bloggers ask themselves, how do I insert capturing and appropriate images into my blog when I don't have any experience in the visually creative realm? It's easier than you think. With these imaging websites, anyone can insert a bustle of exciting graphics into their blog;
1. Canva
This unassuming yet incredible powerful website provides you with high quality images that are adjustable to your whims when needed. The graphics that this tool generates has an air of professionalism about it and will never give away the fact that it was created from a drag and drop interface.
2. Pablo by Buffer
This app claims that it can generate attractive, social media winning images within the span of 30 seconds. Sounds farfetched? Well, it's not! This imaging tool is a reality and might be the simplest and most accessible tool for bloggers out there. It combines the heading of your blog or a quote from it with a professional photograph to give your blog the best it deserves.
3. Placeit
Have you ever come across those images where a man is looking at a phone or computer screen and there's the product on it? Well, Placeit is the answer for you. This website lets you insert any image onto the screen of a smart device like an iPhone or a laptop screen, to give your blog the best of mobile imagery.
4. MobileTest.me
Isn't it absolutely irritating if a blog isn't mobile friendly and all the posts are viewed in a haphazard manner? MobileTest.me is the solution. Most bloggers don't realize that their blogs aren't mobile friendly. MobileTest.me lets the user test out their blogs on a mobile interface before publishing it; and since everyone owns a smartphone these days and uses it to access almost everything on the internet, this tool happens to be extremely essential.
5. Twitter Collages
Although just a feature on Twitter, Twitter Collages can create some absolutely stunning graphics for your blog from Click-to-Tweet posts. The collages can then be directly embedded on to the blog or screenshotted and posted separately.
6. Infographicsme.com
Infographics are to blogs what books are to movies. An infographic can represent an entire blog post in visually stimulating graphic format, making it a more interesting read. Including infographics within your blog can change the way people view it. Your blog now has an infographic for the extremely busy bees and a laid back blog post for the calm readers. Infographicsme can create custom infographics that will greatly improve the status of your blog.
7. Venngage
Venngage provides professionally created design templates for blogging newbies. Anyone can start using their free services and create incredibly beautiful templates to include in their blogs.

8. Google Charts
If your blog could really use the presence of statistics, Google Charts is the way to go. With a basic knowledge of Javascript, you can create engaging diagrams, graphs, histograms; you name it. Including valid, real time statistics in your blog posts is a proven way to capture the interests of your audience.
9. Infogr.am
Infogr.am makes the most advanced of technologies accessible to the common man. If your blog charts need a little spicing up, infogr.am can find the solution for you. The most remarkable thing about this tool is its ability to incorporate real time data into your blog. Supposing you start a survey on your blog, infogr.am can keep updating and displaying the results of the survey in real time.
10. Tableau
If your blog happens to lean towards the business side of things, Tableau is a crucial tool for you. Tableau is a great way to visualize and organize data while also creating stunning graphs and maps, making complex analytics comprehensible to anyone.
The most influential and popular bloggers always know how and when to use engaging and capturing graphics within their blogs. They know the right amount of color required to peak a person's interests. Get this concoction right and you will end up with the perfect blog!
#HappyBlogging!