10 Brilliant Sources of Inspiration for Content
Dan Brown, the famous novelist, once admitted to hanging from the ceiling by his legs, like a bat, because he was hit with a severe case of writer's block and couldn't come up with great content for his book. If Dan Brown has a hard time coming up with content, what chance do we regular people have? Yes, coming up with content for books or blogs is indeed a mammoth task that requires a lot of creative, out of the box thinking and pristine perspectives on day to day issues. Most of the times, our brains might not always work at full capacity and we struggle to find inspiration for content. Everyone has heard that to be successful on social media, bloggers should have "capturing content." The truth of the matter is, coming up with said content is very time consuming and frustrating. But that's okay! Sometimes we need to take a break and see what other minds have come up with and absorb some of that to create your own brilliant content. So, here are 10 amazing sources online to find inspiration for great content;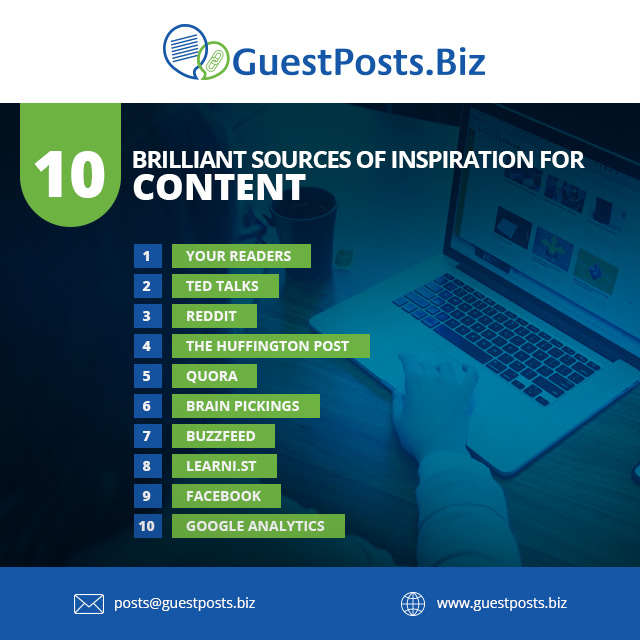 TED Talks. TED Talks are events where out of the box thinkers share their views with the world, through word of mouth, and hope that the people listening gain some perspective and get educated about the topic spoken of. Thousands of people have left these events feeling inspired and refreshed with a whole new outlook on life; and the speakers leave feeling satisfied that their points of view are out in the open and appreciated by the public. Listening to some of these speeches never fails to provide some great content covering over a multitude of topics. Check out some of the speeches here.
 Reddit amasses a vast collection of content from every niche topic to ever exist. It can be quite overwhelming to be honest, but, if you work your way around the unimportant and spam posts, Reddit is a great source for discovering new and stimulating content.
 Huffington Post. With an audience big enough to fill the world's oceans, The Huffington Post is a great website to read about different posts and stories and be inspired doing so. Although it has a limited selection of topics, brilliant content makes up for that lack.
 Quora. Free of spam and promotional content, Quora engages users in a question and answer format to create appealing and informative content. You can choose the topics you are interested in and only questions and replies in that niche will pop up on your feed. This platform, while being educational, is also a fun way of getting inspired for blogging.
 Brain Pickings: Brain Pickings is a fantastic blog with truly creative and insightful content partnered with amazing visuals. The articles here are extremely well researched and the writing reflects that effort. Shared by thousands of readers, within the walls of this blog are your best chances of inspiration for not just one article, but how to create an entire blog.
 Buzzfeed. This quirky website holds some of the greatest and most popular articles to ever surface upon the face of the internet. Combined with attention-grabbing videos and attractive images, this website has made itself a worldwide phenomenon.
 Learni.st. This website is an incredible platform to search from niche academic topics to the broadest topics like business or arts. Upon search, you will be presented with boards housing curated content with images that is sure to get your mind whizzing and your blog filled.
 Facebook. This may seem like an odd source but there is a vast ocean of resources and information on this platform and the people who take full advantage of this are the winners of the 21st century. Facebook users post original content in the form of statuses and also link to external sources that contain informative portals. Unearthing these posts will truly provide some useful insights into blogging.
 Your readers. Make sure to always listen to feedback from your readers as they might provide some insight into what your blog lacks. Ultimately, you are creating content for them and if they don't seem to like it, there is no point writing more posts in that niche.
Google Analytics. Once your blog gains popularity, use google analytics to figure out which of your posts are the most popular and which posts people don't seem to care about. This will give you an idea about which areas to focus on and which ones to let go of.
To learn more about creating capturing content, check our other article here!
#HappyBlogging!