Top 10 Ways to Promote Your Mobile App
Bringing the phrase, "the world at your fingertips," crashing down into reality; mobile apps have revolutionized the way we have access to the oceans of information on the internet. By conveying everything within the niche of the app into one meek layout, it allows users to be intimate and in contact with you, the developer/founder, keeping the effort at a minimum.
Creating an app is an arduous and tedious process with the time and perseverance of many developers racking up to come out with the finished product. So, naturally, post-development, the app developers and everyone who worked on it will be incredibly proud of their invention. But, if the app is not marketed properly, all this admiration and awe will quickly turn into horror and desperation; because, let's be honest, no one really realizes what goes on behind the scenes and will not purchase the app on the basis of empathy alone.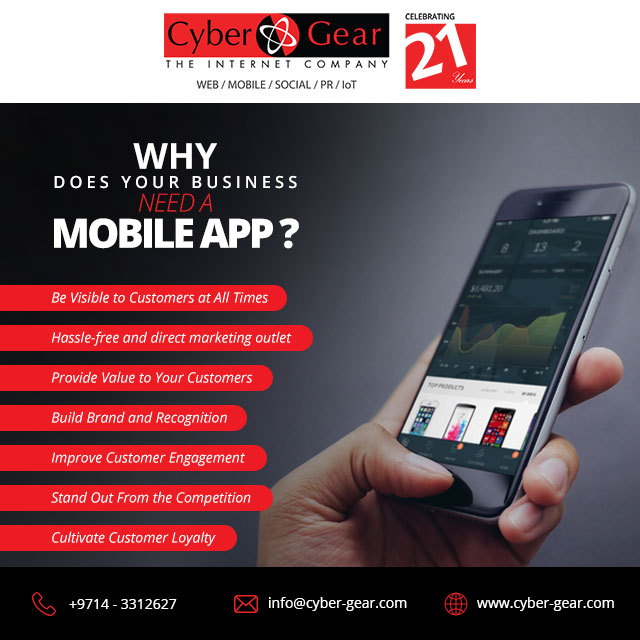 A great example of efficient app promotion was PokemonGo. People were registering to download the app in the millions; and this was before the app was even released. Then, promoting your app is one, if not the most, important step in getting a profit and publicity for your app.
So here are the top 10 steps in ensuring your app gets the adequate amount of promotion:
1. Know your customers
This step should begin pre-production of the app. Create a list of all your previous customers, preferably by getting their email addresses, and ask them what they would like to see in the latest app under construction. Provide them with some sort of incentive/bonus for taking time out to assist you, like a promo code that lets them download the app for free or at a discounted rate.
2. Use Social Media extensively
Social media is still an under used platform today and has immense potential in marketing your app. Promote your app on your own various social media channels extensively. Instead of one post about the app, write 7 or 8 a week. Statistics have shown that one post on social media reaches out to just 16% of your audience; and that is just not good enough. Instead of just focusing on major media platforms like Facebook, Instagram, LinkedIn and Twitter; focus on niche and smaller media stages. Every little bit of promotion helps in the long run. Post well edited pictures and write ups before the launch of your app to get your audience excited. Make full use of the power of the #hashtag. Starting your own unique hashtag can get you an audience bigger than the ones that already follow you. We have an entire article about the importance of the #; check it out here.
3. Create a microsite
A microsite is a one or two page website that serves the sole purpose of marketing your app. The most important part of the microsite is the landing page. This is the first thing visitors will see when they visit the site. Make it minimalistic, easy to understand and easy to look at. Post one or two screenshots of your app with a one liner description to give a feel for the interface. Direct the visitors to the app stores where your app will be available for download. Encourage them to share the site on social media by displaying links.
4. App Store Optimization(ASO)
The app store version of SEO; mastering the tactics of ASO can be make or break for your app. To rank high in ASO, make sure to include the right keywords in your app description. For instance, if the user needs web-development services, they will search for key words like "Web Development" or "E-business." Understanding what your customer might be looking for is the core of this step.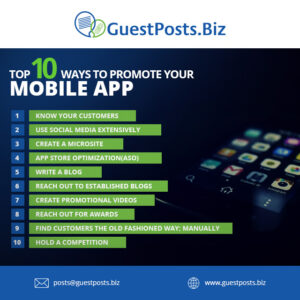 5. Write a blog
Writing a blog is always a good idea for any form of online marketing. Post write-ups and articles describing your app, answer FAQs; and attach the blog to your microsite so users have an integrated platform to explore.
6. Reach out to established blogs.
When you search online for "Top apps for…"; the search results always show leading review blogs on top of the results. Getting featured in these blogs will mean big publicity for your app, drawing in thousands, if not millions of customers. Android Authority is one of the leading blogger sites in app ranking.
7. Create promotional videos
Make videos showing the working of your app so customers can relate it to daily use. Creative content can draw in a lot of eyes and in turn a lot of customers. Post your finished product on top video sharing sites like YouTube and Vimeo. Don't forget to post the video on your social media too!
8. Reach out for awards
Submit your app for an award in its category. Many organizations like Appcelerator award the best apps in their category every year. Getting an award for your app will be huge in promotional value; and adding your achievement in the app description will engage the trust in customers even before they have an association with your app.
9. Find customers the old fashioned way; Manually
Reach out to organizations and institutions where you feel your app could make a sizeable contribution in aiding the smooth running. For example, if your app caters to the needs of tourists, you could put forth your ideas to a company or website that provides a service in the tourism industry.
10. Hold a competition
People are always up to win something. And a competition never fails to peak some interests. Create a competition, where for instance, if someone shares your app post with a unique hashtag, a random person could be selected on a weekly basis and they could be rewarded with a promo code or other forms of commemoration.
Putting your app out there isn't enough. Putting your app out there where the world will see and utilize it, that's where it counts. Not everyone understands the concept of promotion but truth be told, every minute of work that has gone into the app is worthless if no one knows about its existence. Promotion has proven to be a vital step in sustaining the life of an app. In all honesty, without promotion, I would have never downloaded the PokemonGo app; and it wouldn't have been the smashing success story that it was.